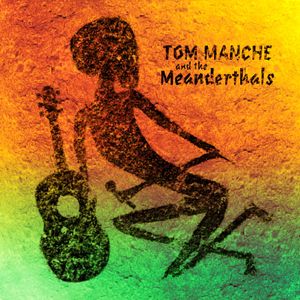 Tom Manche & the Meanderthals contains 13 songs which, although happily meandering through a number of diverse musical styles, all share the same, shall we say, "skewed" outlook.

Take, for example, Magic 8 Ball, a Memphis-style R&B groove which speculates that the president might be consulting a certain plastic toy to make major policy decisions.

Or Hck-Tzhzh, ...that would be the taunting whipcrack sound guys make to one of their own suspected of being "P-whipped", set to a hyperdrive country rave-up.

Morning Breath professes, by way of a slinky bossa nova beat, that one's love can withstand the strain of any mere a.m. halitosis.

How about Snookums, a cool hipster-esque track exposing the little-known aphrodisiac qualities of babytalk.

Or Bad Dancer, an account of undoubtedly the world's worst hoofer. "...like a chimp on acid gone berserk, or a rusty robot all herky-jerk"... sure to make you feel less self-concious about your own pathetic dance moves.

Some of Music City's finest players lent their considerable talents to the project, including a cameo by dobro ace Jerry Douglas. There's not a sappy love song, angry urban tirade, or ultra-sincere ode to nature in the bunch, but no matter what your age, taste, or shoe size, there's guaranteed to be something to tickle, tweak, tantalize, or torture in this collection.

Purchase The Meanderthals CD
Download The Meanderthals Album or Tracks
Tom Manche & the Meanderthals
Tom Manche
0:00/5:40

0:00/5:46

0:00/3:25

0:00/3:28

0:00/2:22

0:00/3:13

0:00/3:09

0:00/4:18

0:00/3:41

0:00/3:53

0:00/2:39

0:00/4:39

0:00/4:30